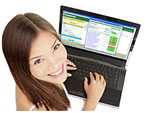 Courses covered:
Principles of Accounting
Financial Accounting
College Accounting
Pre-requisite for Intermediate Accounting
> Accelerate Learning and Improve Test Scores at Least a Full Letter Grade
Quantum's adaptive learning and assessment software has helped thousands of students master accounting and save study time.
> Personal Step-by-Step Feedback on Student Work
Because no two students learn alike, Quantum
®
uses powerful artificial intelligence technology to interpret individual student work (not multiple choice answers) and explain
why
student answers are right or wrong with personal step-by-step feedback.
> Target Areas Where Students Need the Most Help
Students receive real-time How Am I Doing?
SM
progress reports showing concept mastery and specific skills requiring more practice.
> Immediate Answers to Student Questions Day or Night
Rather than wait until the next day to ask the instructor, now students can ask questions anytime and get the real-time help needed to understand and master the material.
> Coaching and Test Preparation
Individualized feedback helps students learn from their mistakes so they don't repeat them at test time. Proven to increase test scores at least a full letter grade with less study time.